It is becoming a tradition. Sikiliza Leo offers a warm tasty collection of soups in the cold winter days in Belgium. A great opportunity to meet friends of Sikiliza Leo and to sponsor our ongoing projects in Uganda.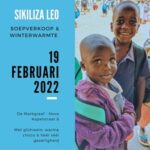 The Soup sale is on Saturday 19 February 2022.
The choice: tomato soup, chervil soup, and pumpkin soup..
You vcan order via this link https://linktr.ee/Sikilizaleo
Come and pick up your order at the Markgraaf in Hove, Kapelstraat nr 8 (at the library) between  9:00 AM  and 4:00 PM
In our Soup Cafee you can have a taste: soup,  glühwein or hot chocolate milk, and get more information about Sikiliza Leo 2022.